Proteus DB - Cloud Ready Digital Bridge Interface
The Proteus DB - Digital Bridge Interface is a sensor agnostic interface designed to bring cloud connectivity to your electronic systems. The Bridge comes with a UART Interface with configurable baud rate. You can connect the bridge to your electronic systems and pass JSON formatted data which will be displayed on the cloud with data logging and alarm notification options.
With the JSON formatted data, you can push data for a single element, or multiple elements. An element can be a sensor or any parameter that you want to monitor.
Bring cloud connectivity to your entire system with the ease of a uart connection.
• Know when any of your nodes go to alarm
• Loud audible buzzer for immediate notification
• Multiple sensors/ parameters can be included in the JSON array.
• No subscriptions or monthly fees. Text and emails alerts are free. Calls are 9 cents per call. As simple as that.
• 802.11b/g WiFi provides seamless connectivity to your home/ office network
• Easy to set up from your smartphone or PC browser
• Check status of the sensor any time from your phone
• Send alert to multiple emails, and phones.
• Smart audible alert can be turned on, off or even programmed to turn off after few minutes
Got a question? Need help while setting up? Call us and talk to real and friendly support staff. No automated messages.
Proteus DB
Bring your own sensor / data to cloud.
Proteus DB WiFi Digital Bridge lets you connect and monitor your own boards/ systems/ sensors on to the cloud. Proteus DB comes with a UART interface with configurable baud rate. Format data for different parameters you wish to monitor into a JSON object and seamlessly transmit onto the cloud. A 4 contact terminal Block is included for easy connection between your board/ system and Proteus DB. The terminal block plugs in directly to the stereo input port on the base unit, or you can use TRRS stereo extension cord to add more reach for the terminal block. Monitor your custom applications, and sends you alert messages when alarm conditions are detected, to your email or smart phone. Proteus DB sensor comes with 802.11g Wifi and connects to your home or office Wi-Fi networks . .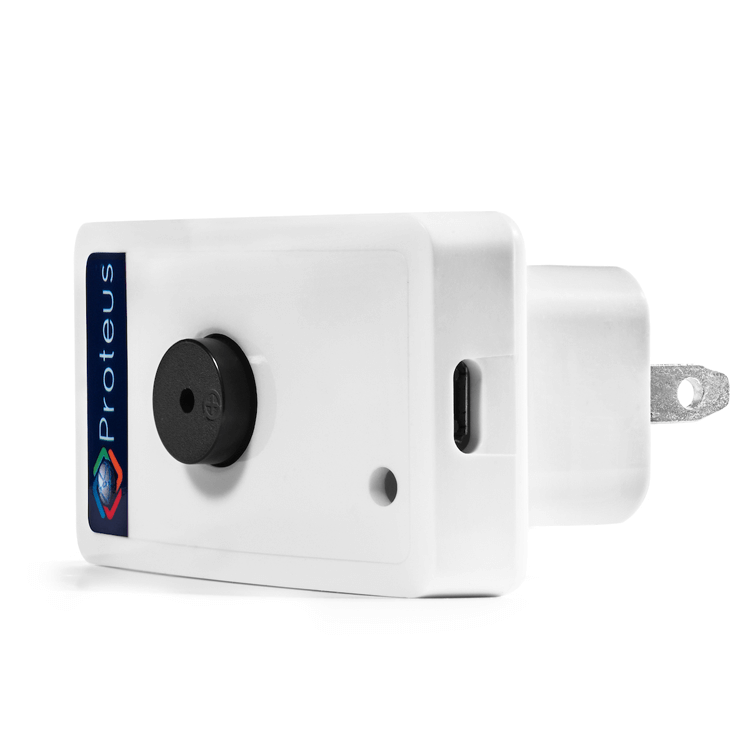 Compact Design.
Proteus comes in a surprisingly compact feature rich package. Plug it right into a wall outlet (100-240V AC). No batteries to replace.
It connects directly to your wifi, with no additional hubs or gateways required. Oh, and it wont block your second wall outlet.
Proteus DB board can also be powered using 5V DC via the USB Type A or micro USB port. It can also be customized to work with your board using a 3.3V supply.
Terminal Block Contacts, Extendable.
Proteus DB comes with a 4 contact terminal block module that can be plugged in directly to the base unit. Need to extend the terminals? You can use a 3.5mm TRRS cord to extend the reach of the block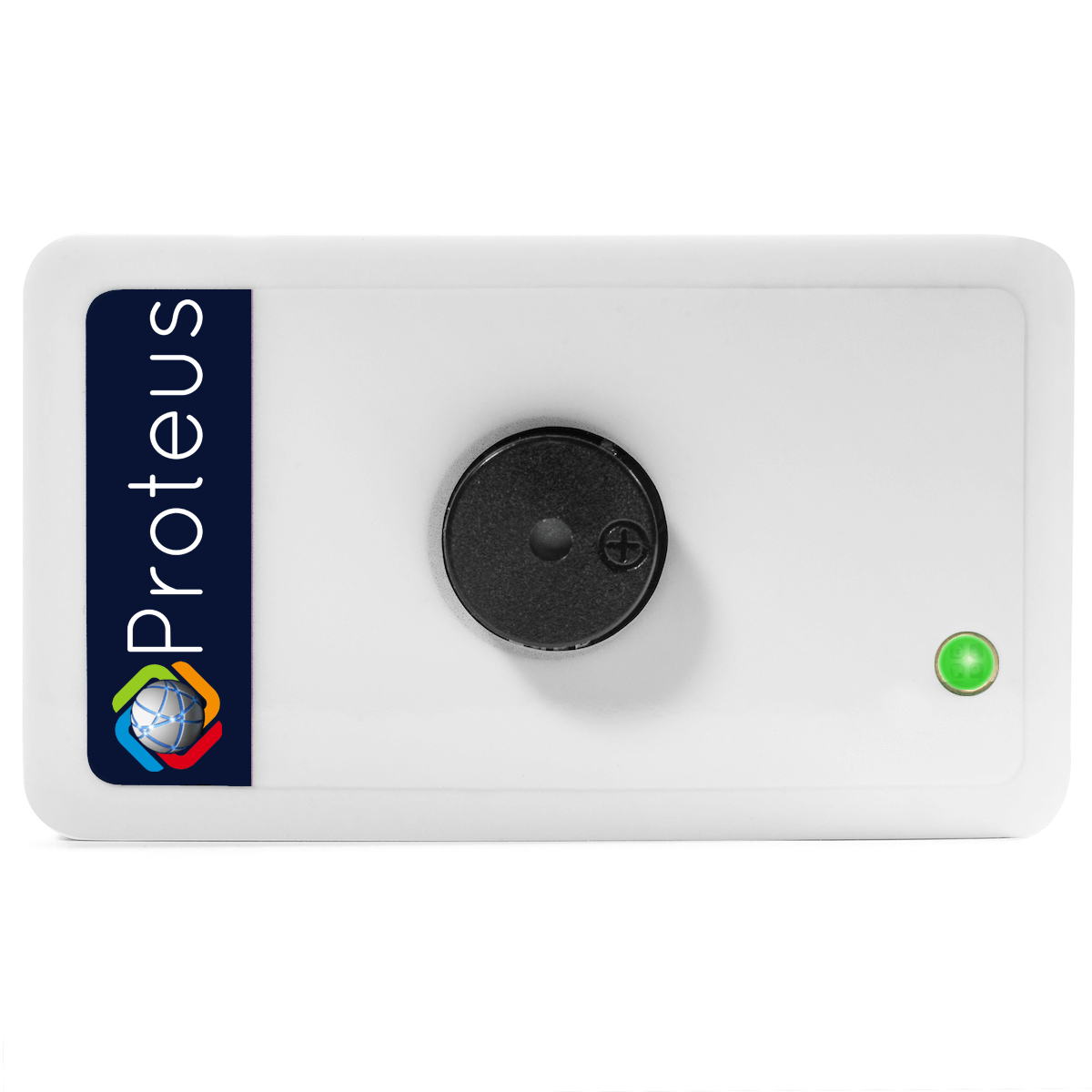 Built-in Buzzer
Proteus comes with a smart built-in buzzer. This loud audible alert will notify you locally when the alarm trips.
You can program the buzzer to snooze automatically after few minutes, or you can also disable the buzzer completely and still get the alert notifications.
Email, Text, Call Alerts
Get Notifications by emails, text , call alerts when alarms are tripped. Add multiple emails, and phone numbers. Get Notified instantly.
Easy Reset.
Got a new router? Changed your wifi password? Simply reset the sensor by pressing the reset button for 5 seconds leading to a long beep. Continue to setup the sensor with your new wifi network.
Notify on Power Outage.
With smart monitoring from our cloud, you will be notified as quick as 10 minutes after power or wifi goes down. You will be notified if the sensor stops working even when power and wifi are good. When the sensor comes back online after power, wifi is restored or sensor issues resolved, you will be notified as well.
Inside the box.
Proteus Base Unit.
Terminal Block Module with 25 ft Cable.
AC Power Supply.
Quick Start Guide.
Requirements
All Proteus WiFi Sensors require a 2.4 GHz Wi-Fi network for operation.
Is there a specific format in which Data should be transmitted?
Proteus DB accepts data in a standard JSON format. Please see the user guide on formatting your data
Voice Call Alerts
Voice call alerts are part of the advanced options package and is a paid option.
Power supply
All proteus sensors, unless specified otherwise, are powered directly from a 120-240V AC wall outlet. Simply plugin the sensor to a standard wall outlet and you are good to go.
More Information

| | |
| --- | --- |
| Variant | 1 |