Proteus RC - WiFi Cloud Interface with email/ text alerts for relay contacts
The Proteus RC Wi-Fi contact sensor with text and audible alerts lets you monitor your own switch/ contact/ relay inputs through the cloud. . The sensor detects when contact points are opened or closed and alerts you immediately or remotely of changes.
• Know when contact/ relay is opened/ closed and get alerts by email or text message.
• Make easy connections with Screw Terminal Connector Interface. A 25 ft cable is included for extension purposes.
• Set alerts to be sent any time of day, or only during specific times of day and week.
• Know when alarm resets (Contact back to normal state).
• Select Normally Closed or Normally Open state as default. Alarm when this state changes.
• Add custom delay times before alarm is tripped.
• Local audible buzzer beeps when sensor is triggered.
• Buzzer can be turned on or off, or programmed to turn off after few minutes automatically
• Compatible with most open/ close relay contacts. Please ensure there is no AC/ DC voltage on the relay contact terminals.
• 802.11b/g WiFi provides seamless connectivity to your home/ office network
• Easy to set up from your smartphone or PC browser
Got a question? Need help while setting up? Call us and talk to real and friendly support staff. No automated messages.
Proteus RC
Smarten your relay contacts.
Proteus RC WiFi relay contact monitor lets you connect and monitor your own custom switches or relay contacts to the cloud. A terminal Block is included for easy connection between your switch/ relay contacts and the sensor. Your relay contacts connect to the terminal block. The terminal block plugs in directly to the stereo input port on the base unit, or you can use the 25ft male-to-female extension cord to add more reach for the terminal block. Monitor your custom applications, and sends you alert messages when they are opened (or closed - user configurable), to your email or smart phone. Proteus RC sensor comes with 802.11g Wifi and connects to your home or office Wi-Fi networks . .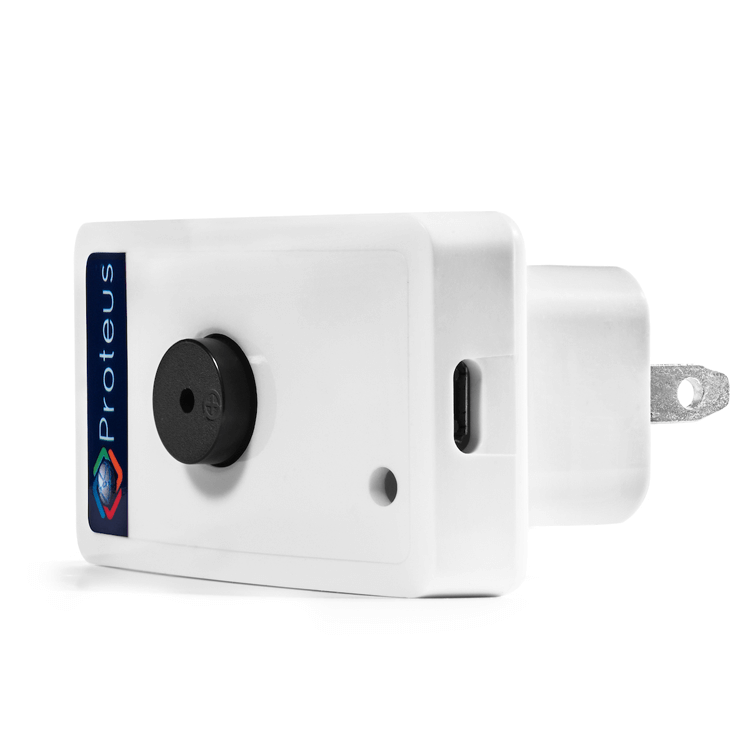 Compact Design.
Proteus comes in a surprisingly compact feature rich package. Plug it right into a wall outlet (100-240V AC). No batteries to replace.
It connects directly to your wifi, with no additional hubs or gateways required. Oh, and it wont block your second wall outlet.
Terminal Block Contacts, Extendable.
Proteus RC comes with a terminal block module that can be plugged in directly to the base unit. Need to extend the terminals? No problem. Simply connect the included 25 ft extension cord to move the terminals closer to your contacts.
Easy to Setup.
You can use your smart phone, tablet or a laptop to setup the sensor.
Power up your sensor.
Connect your phone/ laptop to ProteusSetup-xxxxx network.
Wait for setup screen to popup.
Select your wifi, enter wifi password.
Select timezone.
Enter primary email.
Save Settings.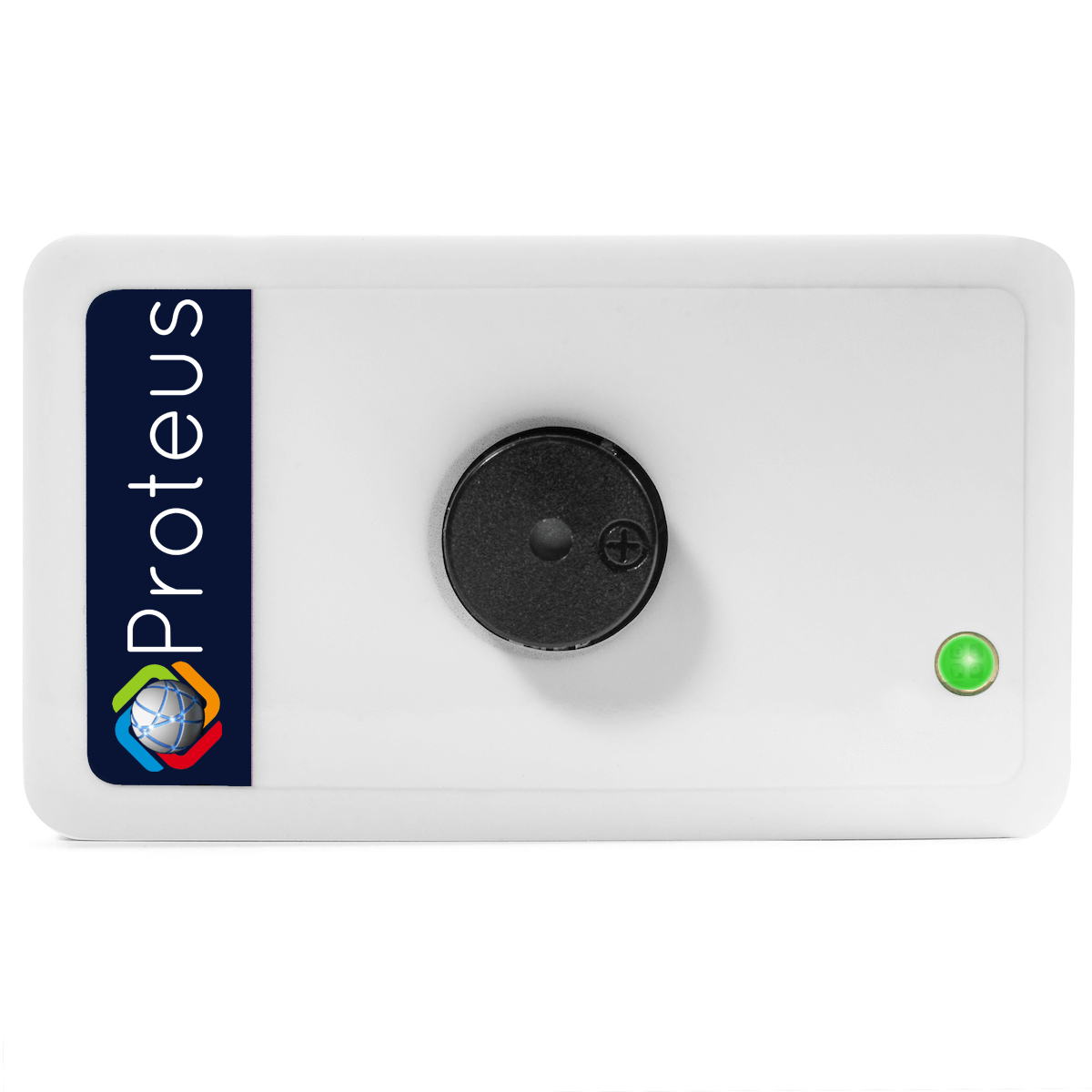 Built-in Buzzer
Proteus comes with a smart built-in buzzer. This loud audible alert will notify you locally when the alarm trips.
You can program the buzzer to snooze automatically after few minutes, or you can also disable the buzzer completely and still get the alert notifications.
Email, Text, Call Alerts
Get Notifications by emails, text , call alerts when alarms are tripped. Add multiple emails, and phone numbers. Get Notified instantly.
Easy Reset.
Got a new router? Changed your wifi password? Simply reset the sensor by pressing the reset button for 5 seconds leading to a long beep. Continue to setup the sensor with your new wifi network.
Notify on Power Outage.
With smart monitoring from our cloud, you will be notified as quick as 10 minutes after power or wifi goes down. You will be notified if the sensor stops working even when power and wifi are good. When the sensor comes back online after power, wifi is restored or sensor issues resolved, you will be notified as well.
Inside the box.
Proteus Base Unit.
Terminal Block Module with 25 ft Cable.
AC Power Supply.
Quick Start Guide.
Requirements
All Proteus WiFi Sensors require a 2.4 GHz Wi-Fi network for operation.
Why monitor relay contacts?
Relay contact points are present in every walks of automation. Primarily intended to provide control triggers, cloud connectivity can bring added advantages of knowing when contact status changes, identify abnormal behaviour, connect to and control other cloud connected devices and more.
What type of relay contacts are supported?
Dry contacts in general. Make sure there is no voltage on the terminal blocks.
Voice Call Alerts
Voice call alerts are part of the advanced options package and is a paid option.
Power supply
All proteus sensors, unless specified otherwise, are powered directly from a 120-240V AC wall outlet. Simply plugin the sensor to a standard wall outlet and you are good to go.
More Information

| | |
| --- | --- |
| Variant | 1 |
| gtin | 700424999439 |