Proteus AMBIO - Wireless Temperature/ Humidity Sensor
The Proteus AMBIO wireless temperature and humidity sensor allows you to maintain strict control over your environment. With programmable text or email alerts and audible alerts, you can immediately see or hear when the environment is outside the set parameters. For goods that must be stored under certain conditions, the AMBIO temperature and humidity sensor allows you to maintain strict control even when you are away.
The AMBIO wireless sensor detects changes in temperature ranging from -40 degrees up to 257 degrees Fahrenheit and humidity range from 0 to 99.9%. Installation is easy and takes just a few minutes.
Order a temperature or humidity sensor for your home or business and keep the environment secure.
• Temperature / Humidity sensors for ambient monitoring.
• Supports Temperature, Heat Index or Dew Point Measurement.
• 802.11b/g WiFi (2.4 GHz) provides seamless connectivity to your home/ office network
• Easy to change settings, view live data and alarm logs from your smartphone or PC
• Send alert emails and text messages to multiple emails and phones.
• No subscriptions or monthly fees. Text and emails alerts are free. Calls are 9 cents per call. As simple as that.
• Optional Voice Call alerts to multiple phones.
• Month long data logs, with options for extended data storage.
• Audible alert immediately notifies of any sensor reading fluctuations to alert local personal.
• Smart audible alert can be turned on, off or even programmed to turn off after few minutes
Got a question? Need help while setting up? Call us and talk to real and friendly support staff. No automated messages.
Proteus AMBIO
Measure. Log. Alert. And more
Proteus AMBIO makes it easy to monitor temperature and humidity, set thresholds and get notified when alarms are tripped. Monitor from anywhere and get live data and historic graphs.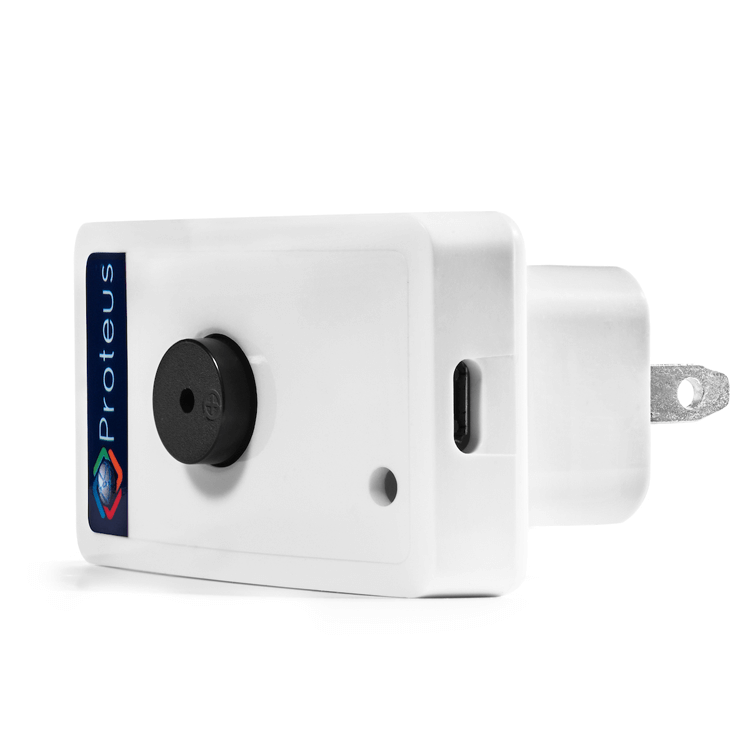 Compact Design.
Proteus comes in a surprisingly compact feature rich package. Plug it right into a wall outlet (100-240V AC). No batteries to replace.
It connects directly to your wifi, with no additional hubs or gateways required. Oh, and it wont block your second wall outlet.
Easy to Setup.
You can use your smart phone, tablet or a laptop to setup the sensor.
Power up your sensor.
Connect your phone/ laptop to ProteusSetup-xxxxx network.
Wait for setup screen to popup.
Select your wifi, enter wifi password.
Select timezone.
Enter primary email.
Save Settings.
Accurate, Extendable Sensor Probe.
Ambio comes with an external sensor probe to measure temperature and humidity with superior accuracy. The 3 inch probe can be extended upto 12ft to place the sensor probe at desired spots if needed.
Temperature Sensing element specifications
Sensor Range -40 - +125°C (-40 - +257°F)
Sensor Accuracy +/-0.5°C
Humidity Sensing element specifications
Sensor Accuracy +/-3%
Sensor Range 0 to 99.9% RH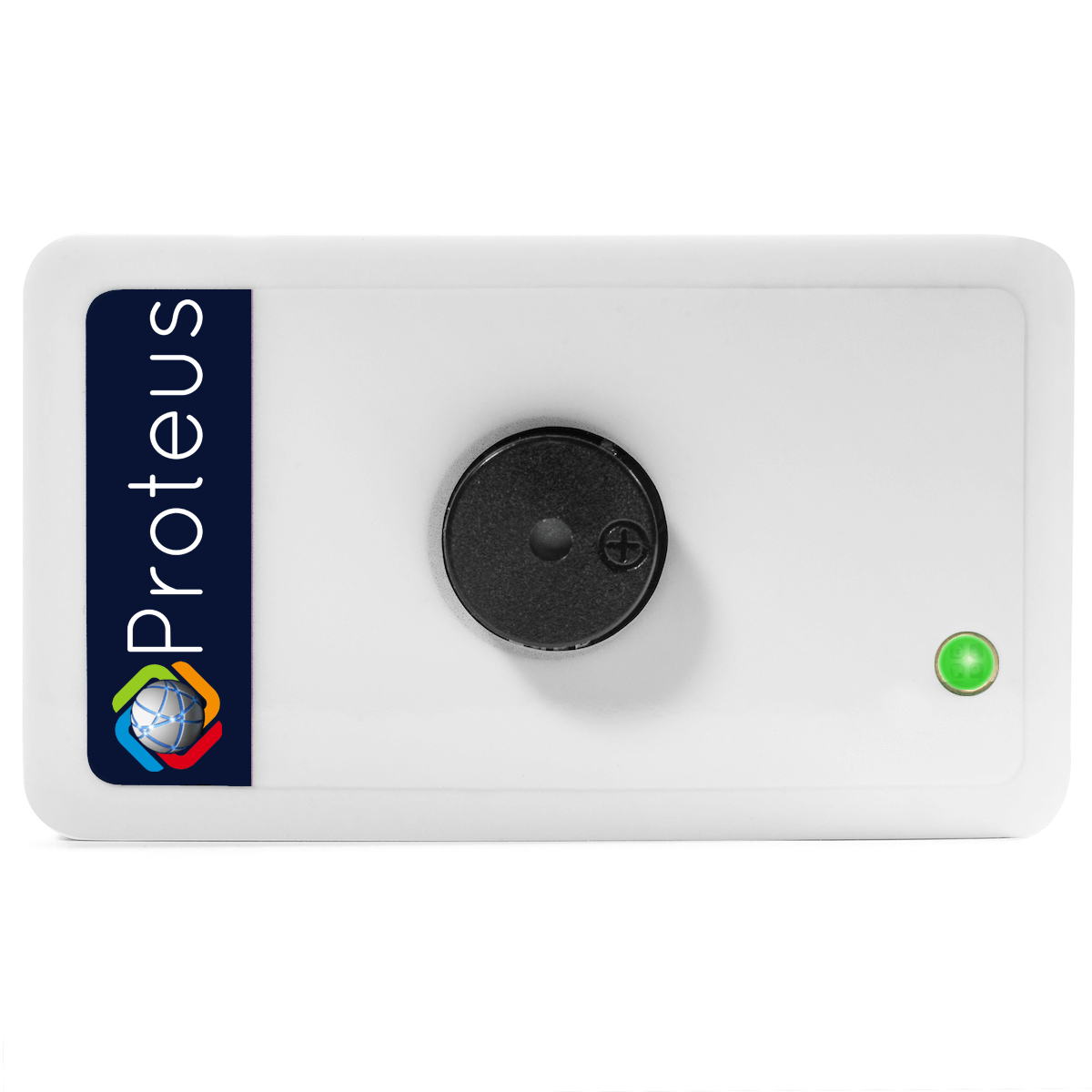 Built-in Buzzer
Proteus comes with a smart built-in buzzer. This loud audible alert will notify you locally when the alarm trips.
You can program the buzzer to snooze automatically after few minutes, or you can also disable the buzzer completely and still get the alert notifications.
Email, Text, Call Alerts
Get Notifications by emails, text , call alerts when alarms are tripped. Add multiple emails, and phone numbers. Get Notified instantly.
Easy Reset.
Got a new router? Changed your wifi password? Simply reset the sensor by pressing the reset button for 5 seconds leading to a long beep. Continue to setup the sensor with your new wifi network.
Notify on Power Outage.
With smart monitoring from our cloud, you will be notified as quick as 10 minutes after power or wifi goes down. You will be notified if the sensor stops working even when power and wifi are good. When the sensor comes back online after power, wifi is restored or sensor issues resolved, you will be notified as well.
Inside the box.
Proteus Base Unit.
Temperature + Humidity Sensor Probe.
Extension Cord (optional).
AC Power Supply.
Quick Start Guide.
Proteus AMBIO — Wireless Temperature and Humidity Sensor
Take control of your environment. The Proteus AMBIO Wireless Temperature/Humidity Sensor can monitor home humidity and temperature so you have the peace of mind that comes with knowing conditions in your home are just where you want them. Our temperature and humidity sensor measures changes in humidity as small as 3%, and changes in temperature from minus 40 up to 257 degrees Fahrenheit.
How Temperature and Humidity Sensors Work
Our humidity and temperature monitor alerts you instantly through text, email or an audible buzzer so you are made aware when conditions fall outside your set parameters. Installation is a breeze, and you can change your settings or view data and alarm logs from your tablet, smartphone or computer.
Use the AMBIO wireless sensor to ensure that your condition-sensitive wares are in a favorable environment, even when you're away. You can trust our temperature and humidity sensor to keep the conditions at your home or business secure.
Temperature and Humidity Sensor Applications
Indoors or outdoors, dry or wet, hot or cold, our temperature and humidity monitor with alert system will hold up to the environment. The AMBIO has a broad set of applications but always fulfills its intended purpose. Whether you just want to keep your home from feeling stuffy or you need to maintain an antique automobile in a climate-controlled garage, our temperature and humidity sensor can do it all.
Home
Monitoring the temperatures and humidity around your home is imperative to keeping it comfortable. It also gives you the confidence of knowing that your home is being properly heated or cooled when you're away.
If you're traveling for extended periods, this tool can ensure the conditions you come back to will be pleasant. If a critical system such as your heater or dehumidifier fails, you'll be the first to know, giving you the power to arrange a repair before any lasting damage can occur.
Office
Keep your place of business's assets protected from the environment. The AMBIO's alert system will inform you if conditions are outside your desired range, which could put computers and other valuables at risk. Plus, keeping your work environment comfortable will lead to happier, more productive workers.
RV
If you're traveling in an RV, it is likely the only place you'll have environmental control over on your whole trip. While traveling with a pet, use the AMBIO to make sure it stays comfortable while you're out on a hike or gone for long periods.
Storage/Collectibles Room
Whether it's your collection of vintage comic books or old letters written to and from your ancestors, keep your storage or collectible space monitored for optimal conditions with our sensors.
Server Rooms
Server rooms are filled with thousands of dollars worth of electronics that are sensitive to temperature and humidity. Prevent them from damage by using our humidity monitor with alert systems.
Garages
Monitor your temperature-controlled garage remotely with our sensors to ensure your classic car is in the right conditions to avoid rust and wear and all times.
Greenhouses
Because some plants aren't as hardy as others, it's important to check on their conditions to guarantee proper growth.
Refrigerators and Freezers
Have a finicky refrigerator or freezer? Use the AMBIO to monitor its temperature and preserve your food. In addition, you can graph temperatures recorded using our sensor, allowing you to monitor frost cycles and other occurrences.
Feel free to contact us today with any questions about our temperature and humidity monitors. Have a unique application and you're not sure if our sensors will work? We have tested our sensors with many third-party devices and apps and in many different environements, call us to see if we can make your unique application work. We'll help you make your environment better than ever.
Specifications
Voice Call Alerts
Voice call alerts are part of the advanced options package and is a paid option. Notifications are charged on a per call basis at 9¢/ call
Power supply
All proteus sensors, unless specified otherwise, are powered directly from a 120-240V AC wall outlet. Simply plugin the sensor to a standard wall outlet and you are good to go.
Can I install multiple sensor units in the same home or different homes?
Absolutely. When you go through the setup process, just remember to use the same primary email you used to setup your first sensor. All additional sensors will show up automatically on your cloud dashboard.
Can I name each base unit with unique names?
Yes you can. Login to the sensor cloud at proteushub.com, click on the settings tab of each sensor, modify Sensor name/ description field and save the settings. Your sensor has a unique name now. Any alerts will indiciate this name so you will know which sensor is triggering the alert.
Can I share my sensor cloud dashboard with another person?
Yes you can. There are few ways to do this.
1. If you want to share the sensor dashboard home page alone, then you can use the share dashboard widget. This is availabe as a blue and white arrow icon to the right of your sensor dashboard title. Click on it to generate a link to a read-only view of your dashboard. You can share this link (url) with anyone you wish to. They can access the dashboard and see the live data/ status of your sensor. However, they won't have acess to the settings, logs, alarms or any other parts of the cloud. You can delete this link any time you want and the link will stop working. A new link can be generated again if you need to.
2.If you want to share full access to your sensor dashboard in its entirety, you can set a password to the cloud login that you can share with those you want to. They can also login with the primary email and the password.
3.A third, more secure and convenient way is to use Team feature. This is an option available under the advanced package. Like many of the features under advanced options, Team feature is free to use. You can add anyone with an email address to your team. Once they accept your invitation, you can give them access to all or select sensors in your account. You can also control if they have full access or limited (view-only) access. You can also retract the authorization any time.
More Information

| | |
| --- | --- |
| Variant | 1 |
| gtin | 700424999415 |