Proteus L5 Wi Fi Liquid level / Sump pump water sensor
Protect your home or business from flooding conditions with the Proteus L5 Wi-Fi liquid level sensor. If the liquid level reaches past a specified point, you will receive an automatic alert so you can take action.
Three Sensor Options Available. Read Description for Details.
• Float switch Sensor. Ideal for monitoring if water/liquid goes above or below a single, specified level, e.g. Sump Pumps.
• Non Contact Sensor. Great for aquariums, non metallic tanks.
• Laser Level Sensor. Continuously monitor the water/liquid level in a tank.
Install a sump pump water sensor to prevent basement flooding and take action before flooding occurs. Order online and install your sensor in minutes.
• No False Alarms.
• Configure to sense if water rises above, or goes below set level.
• Send alerts/ text messages to multiple emails and phone numbers.
• No subscriptions or monthly fees. Text and emails alerts are free. Calls are 9 cents per call. As simple as that.
• Super Quick and Easy Setup from your smartphone or PC browser
Got a question? Need help while setting up? Call us and talk to real and friendly support staff. No automated messages.
Proteus L5
Multipurpose Water Level Sensor.
Proteus L5 Wi-Fi water level sensor monitors water level in sump pumps, tanks, condensate pans, overflow containers, and more. It will send email, text and voice call alerts when the alarm is tripped.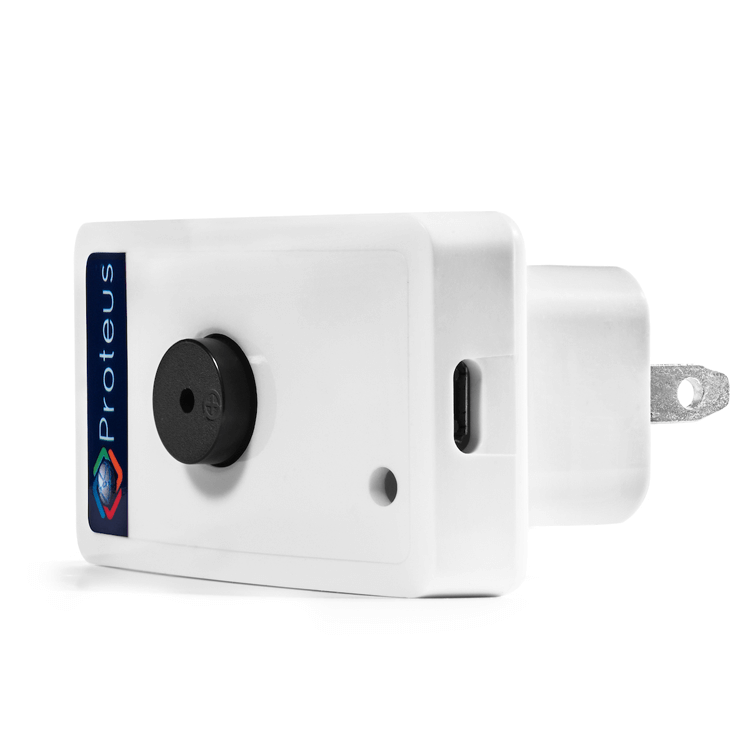 Compact Design.
Proteus comes in a surprisingly compact feature rich package. Plug it right into a wall outlet (100-240V AC). No batteries to replace.
It connects directly to your wifi, with no additional hubs or gateways required. Oh, and it wont block your second wall outlet.
Sensor Options
Proteus L5 supports 3 different sensing cable options to suit your monitoring needs.
Easy to Setup.
You can use your smart phone, tablet or a laptop to setup the sensor.
Power up your sensor.
Connect your phone/ laptop to ProteusSetup-xxxxx network.
Wait for setup screen to popup.
Select your wifi, enter wifi password.
Select timezone.
Enter primary email.
Save Settings.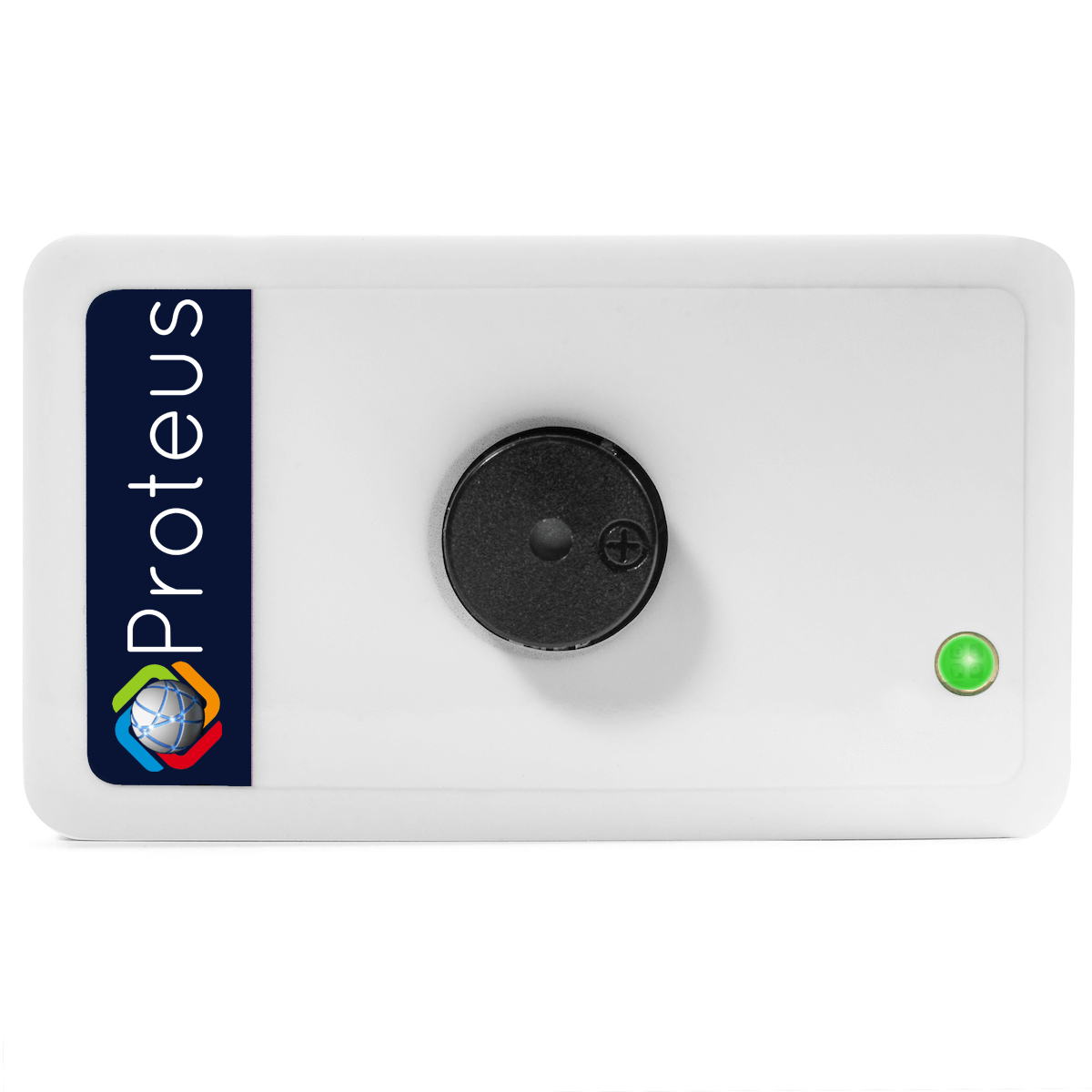 Built-in Buzzer
Proteus comes with a smart built-in buzzer. This loud audible alert will notify you locally when the alarm trips.
You can program the buzzer to snooze automatically after few minutes, or you can also disable the buzzer completely and still get the alert notifications.
Email, Text, Call Alerts
Get Notifications by emails, text , call alerts when alarms are tripped. Add multiple emails, and phone numbers. Get Notified instantly.
Non Contact Sensor
Proteus L5 now supports Non-Contact Level Sensors.
Non Contact Sensor is attached to the outside of the tank you want to monitor.
Long 25 Ft cable included.
Sensor works over Non-Metallic containers such as Plastic, Glass, Ceramic, etc.
Can work on tanks and containers upto 8mm wall thickness thick.
Suitable for water, alcohol, oil, acid, alkali, etc.
Laser Level Sensor.
Laser sensor lets you continuously monitor water/liquid levels in a tank/container. Set low and high level thresholds for alarms and report either level or volume.
Laser Level Sensor is installed at the top of the tank / container. The Sensor node emits 940 nm invisible laser (Class1) to measure and calculate liquid level inside the tank.
Long 25 Ft cable included.
Up to 400 cm distance measurement.
Typical full field-of-view (FoV): 27 Degs
Fast and accurate measurements.
Example applications include storage tanks for well water systems or any other container/tank where water or liquid is stored. If you know the tank dimensions, the Laser Level Sensor can even report liquid volume in addition to liquid level!
Easy Reset.
Got a new router? Changed your wifi password? Simply reset the sensor by pressing the reset button for 5 seconds leading to a long beep. Continue to setup the sensor with your new wifi network.
Notify on Power Outage.
With smart monitoring from our cloud, you will be notified as quick as 10 minutes after power or wifi goes down. You will be notified if the sensor stops working even when power and wifi are good. When the sensor comes back online after power, wifi is restored or sensor issues resolved, you will be notified as well.
Inside the box.
Proteus Base Unit.
Level Sensor
25 ft Extension Cord.
AC Power Supply.
Quick Start Guide.
Specifications
Requirements
All Proteus WiFi Sensors require a 2.4 GHz Wi-Fi network for operation.
Power supply
All proteus sensors, unless specified otherwise, are powered directly from a 120-240V AC wall outlet. Simply plugin the sensor to a standard wall outlet and you are good to go.
No Subscriptions, Upfront Prices for Optional Calls
Email and Text Alerts
All emails and text alerts are free.
Voice Call Alerts
Voice call alerts are part of the advanced options package and is a paid option. Notifications are charged on a per call basis at 9¢/ call
Common Questions About Sump Pump Water Sensors
Flooding doesn't take a break. Neither does our water level sensor. The Proteus L5 Wi-Fi Liquid Level Sensor can help protect your home or business from water damage. The sump pump sensor works by detecting liquid rising or falling past a specified point. If it breaches that point, you will receive an immediate alert so you can take the necessary action.
How Do Water Level Sensors Work?
The sump pump alarm works 24 hours a day and sends alerts to your phone or email so that you're immediately made aware of any malfunctions to your sump pump. However, the L5 sensor can monitor more than that. It can also be used in other locations, such as in a hot tub or swimming pool, to detect any rise in a location's liquid level.
Preventing flooding is the most cost-effective way of dealing with rising waters. Order online and install your sensor yourself in just minutes!
Why Do I Need a Water Level Sensor?
The average insurance claim due to floods from 2011 to 2015 was a whopping $46,000. The average water damage claim is about $7,000. It's estimated that 14,000 people have to hurry to deal with water leak emergencies every single day, and even if you're not in a flood plain, 98 percent of basements will experience leaks at some point.
The numbers talk, and they tell you to count your basement among the 98 percent. But with our sump pump sensor, you don't need to be among the 14,000. Our water level sensor is a low-cost way to monitor your sump pump's efficacy and ensure its failure doesn't turn into damage to your home.
Can Multiple Sensors be Connected?
Proteus can support multiple level sensors. They all connect to a single base unit through a splitter included with the package.
NOTE: When connecting more than one level sensors to the base unit, the base unit will not be able to distinguish which of the multiple sensors detected water. If you need to identify specifically which sensor triggered, then you will need individual base units which can be named to match your installed locations. The alerts will include this sensor name so you can identify each sensor.
What is the difference between Proteus AQUO and Proteus L5 Level Sensor?
Proteus AQUO has a sensor cable with metallic electrodes at the end of the cable. When water touches these two electrodes at the same time, the alarm is triggered. AQUO can detect as low as 1/16" of water
Proteus L5 sump pump level sensor uses a float switch detector. The moving float switch rises/ falls as water level rises and this mechanical action triggers the alarm. As there are no exposed electrodes, the chances of condensation in high humidity spots such as sump pits are minimized, thereby avoiding false alerts.
Can You Check the Sensor Status?
Because we offer our cloud-based service to every user, you can log in to see the stats of the sensor from anywhere you have internet access. All you need to do is open the device log to see any instances where our monitor detected a rise in water level.
Though we call our product a sump pump sensor, the L5 is a Wi-Fi sensor that can detect liquid levels anywhere. Its primary application is to monitor sump pumps, but it can be used for so much more.
Our sensors can detect when water levels exceed or dip below a certain limit. Some places you may want to place your water level sensor include:
Water tanks
Fish tanks
Water heater pans
Condensation pans
Sewage tanks
RV water tanks
Sewage pumps
Because of the sensor's versatility, it can be placed wherever there is an outlet and internet accessibility, allowing you to monitor water levels anywhere.
Can I install multiple sensor units in the same home or different homes?
Absolutely. When you go through the setup process, just remember to use the same primary email you used to setup your first sensor. All additional sensors will show up automatically on your cloud dashboard.
Can I name each base unit with unique names?
Yes you can. Login to the sensor cloud at proteushub.com, click on the settings tab of each sensor, modify Sensor name/ description field and save the settings. Your sensor has a unique name now. Any alerts will indiciate this name so you will know which sensor is triggering the alert.
Can I share my sensor cloud dashboard with another person?
Yes you can. There are few ways to do this.
1. If you want to share the sensor dashboard home page alone, then you can use the share dashboard widget. This is availabe as a blue and white arrow icon to the right of your sensor dashboard title. Click on it to generate a link to a read-only view of your dashboard. You can share this link (url) with anyone you wish to. They can access the dashboard and see the live data/ status of your sensor. However, they won't have acess to the settings, logs, alarms or any other parts of the cloud. You can delete this link any time you want and the link will stop working. A new link can be generated again if you need to.
2.If you want to share full access to your sensor dashboard in its entirety, you can set a password to the cloud login that you can share with those you want to. They can also login with the primary email and the password.
3.A third, more secure and convenient way is to use Team feature. This is an option available under the advanced package. Like many of the features under advanced options, Team feature is free to use. You can add anyone with an email address to your team. Once they accept your invitation, you can give them access to all or select sensors in your account. You can also control if they have full access or limited (view-only) access. You can also retract the authorization any time.
Does the Sensor Need to Be Integrated With a Home Security System to Send Notifications?
In days of old, water level sensors needed to be paired with a security system so there was a way to notify the owner. Now, our sensors are paired directly with our cloud server so you can be notified via email, text or call, without the need to subscribe to an expensive security system.
Our sensors can also communicate to our server when they experience a power outage, so you know what's going on in your home.
We sense you may have some questions. Feel free to contact us today to learn more. Have a unique application in mind or want your sensor to work in tandem with another device when water is detected? Our devices work with many third-party devices, we can help you figure out a solution.
More Information

| | |
| --- | --- |
| Variant | 1 |
| gtin | 700424999422 |